Prostitutes Love Wrestling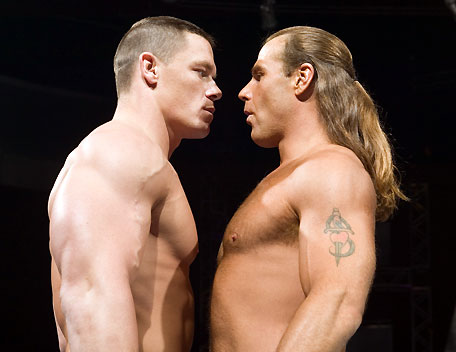 Last night at one of the dockside clubs in Cape Town—where local sugar girls solicit foreign seamen—business came to a halt as John Cena and Shawn Michaels wrestled for the WWE Championship belt. No matter that the Chinese and Russian sailors were drinking in large numbers; no matter that there was plenty of money to be made. The women's eyes were glued to the club's big screen watching Wrestlemania 23.
It seems that, even for the most money-minded of prostitutes, some things are more important than a sexual contract. Like decent entertainment, for instance. But one can understand why:
Most evenings at the club are fairly routine for the women. They arrive at 8pm, talk to girlfriends for a spell, sip a drink, and wait for the seamen. When the sailors arrive, they sidle up next to them to chat, dance, drink, smoke, and laugh and caress. (Or they sit alone, neglected). This lasts for hours. If prospects are good, a woman will try to negotiate a sexual contract with a guy. If she's lucky, she'll get it and they'll go off for sex. And hopefully get paid a decent fee. More often than not, though, the night ends without a contract and stumbles into a cab for a lift home alone.
While there are plenty of opportunities for surprise and drama within this nocturnal routine, it can get pretty boring. So when a good diversion comes around—like hip-hop white-boy John Cena bodyslamming his way to victory at Wrestlemania—they don't miss it.
Many of the women watch daytime soapies like
The Bold and The Beautiful
and
Days of Our Lives
. Many also catch South African evening soaps like
7de Laan
(in Afrikaans),
Backstage
and
Egoli
.
But the weekly wrestling shows like
Raw
,
Velocity
and
Smackdown
also provide narrative satisfaction due to their slick presentations, athletic feats, beefcake voyeurism, and sheer muscularity. American "professional" wrestling is like a soapie on steroids, complete with good guys, bad guys, and all other sorts of interesting characters. For working-class prostitutes, what's not to like?!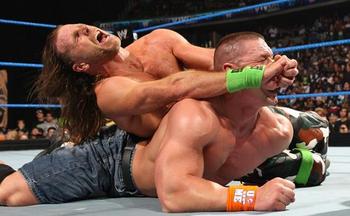 As the music pulsates throughout the club, the lady next to me bites her lip and squirms while Cena looks sure to lose. But when he turns the situation around and puts Michaels in a painful submission hold, she starts jumping up and down in anticipation. And when Cena wins, she and the other women literally scream with delight. She then turns to me, rather flushed, and says, "I would love to fuck John Cena."
Labels: John Cena, prostitutes, wrestling, WWE